Schenectady's magical Monet Immersive Experience opened earlier in October, and since then, it's completely charmed Albany, Scotia, Rotterdam and all the neighboring cities. Created by entertainment giants Exhibition Hub and Fever, Monet: The Immersive Experience presents a totally new way to view and experience art. 
We got to see it in person, and we simply had to share the journey with you. The multisensory spectacle is an exciting adventure through Monet's inspirations and major life moments — from his notable start in the Havre to the beloved Giverny gardens where he lived the remainder of his days. Using the latest technology, Monet: The Immersive Experience took us for a delightful stroll through the impressionist's life. Read on for our review!
Step inside Monet's paintings at Monet: The Immersive Experience!
Now we might have imagined it, but as we made our way over to Schenectady's Armory Studios, it's almost as if the smell of Monet's blooming Giverny gardens took over the room. We first uncovered a room "About the Artist," where we learned about Monet's life in typical exhibit fashion. As we made our way through the unexpected facts, we learned a ton about his lasting influence on the art world. It was a great start to the adventure, since it laid the groundwork for what was to come! 
Once we digested all that information, we stepped into the breathtaking Atelier part of the experience. Picture yourself entering Claude Monet's real studio, where you can admire his freshly created paintings and pencil sketches. This part of the exhibit offered exactly that. Though the studio is a replica, it still felt like an otherworldly experience to imagine Monet creating the oeuvre we know so well. 
The atelier left us in awe, but imagine witnessing the iconic Giverny gardens in all their glory. The "Garden Room" felt like a dream, bringing Monet's iconic bridges to life. The blue, green and pink lighting made every flower stand out in its own way, and it was probably our favorite room of the experience. 
Nothing could have prepared for the immersive aspect of this multisensory journey, though. The "Immersive Room" enveloped us in 360-degree projections, reimagining Monet's most famous artworks in surprising and innovative ways. 
We knew our lovely journey had to come to an end eventually, but we still had a few other rooms to embark on: the "Drawing Room" and the "VR room." We tapped into our inner artists and sketched some masterpieces (who's bragging?) The best part was seeing kids put on their painting hats, experimenting with colors, textures and lines. 
Then, for a small fee, we lived a "day in the life" of Monet, thanks to virtual reality. It genuinely felt as though we were transported to Giverny, and we would highly recommend you try the experience for yourself. 
To wrap up our excursion, we visited the gift shop, where we picked up some goodies – because, it's not everyday we get to explore Monet's universe. 
Want to experience the magic?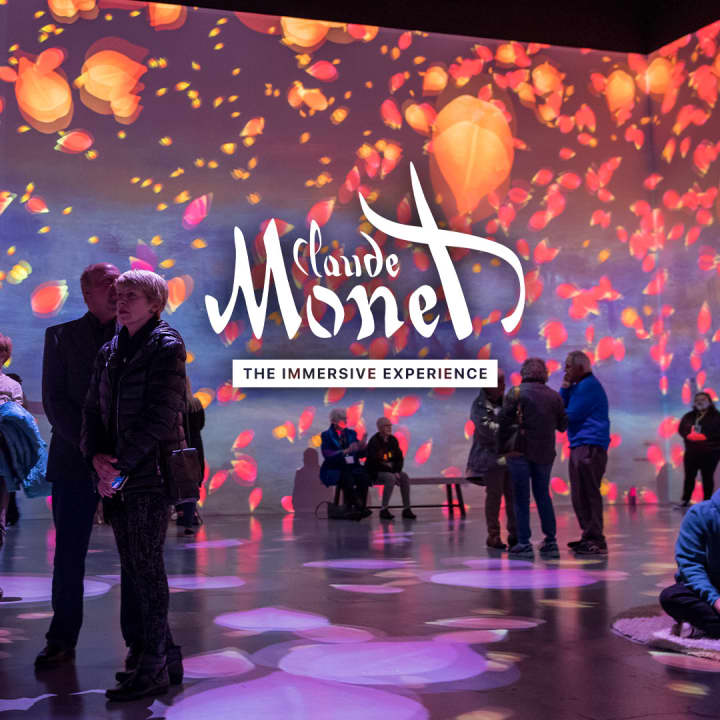 Monet: The Immersive Experience
---